New residents to the Seattle area have trouble accessing information about the Washington State Ferries. The language, routes, terminals, and timing details are intimidating, preventing users from including this transportation option in their regional travel plans. 

By consolidating the information that's already available and offering tailored suggestions, newcomers to Seattle will be better equipped and more likely to travel regionally via the Washington State Ferries. Empowered with accurate information, they'll feel comfortable planning a trip and inviting friends and family to join them.
Though this was for an individual class project at General Assembly, I have recently started early conversations with a small group of UX designers and a developer to create it. Please reach out if you're interested in being involved.​​​
Initial Research/Early User Interview Quotes
"I only ride the ferries once a year. So when I do, it's a special occasion and usually very memorable." 
"I just never know where to park when I walk on as a passenger."
"One time I tried to use the online system and it didn't auto-load the fall schedule even though I put in the date I wanted to go. I thought that would be obvious. Why would I need to know it's the fall sailing vs. the summer sailing schedule? Just tell me the schedule for the date I'm traveling."
"I made the mistake of driving when I didn't need to and it took so much longer than I expected."
"I live on Whidbey and commute daily. Most of the time I know the schedule, but sometimes I use two different apps and the WS Ferries website to get the information I need." 
"When I drive up, I never know which boat I'm going to be able to make. It's always a gamble."
Competitive Analysis
Where are people getting information about ferries and ideas for regional travel?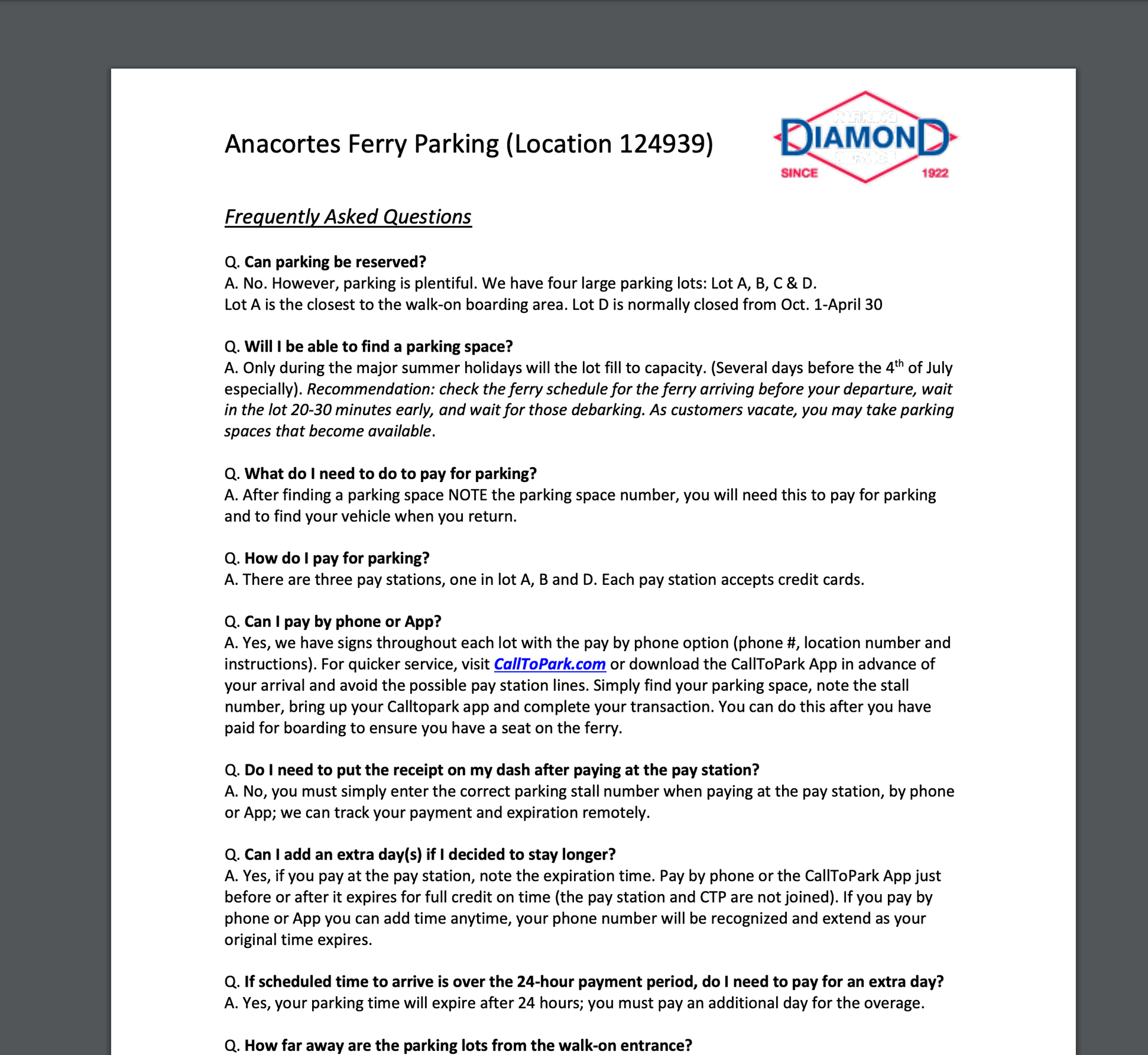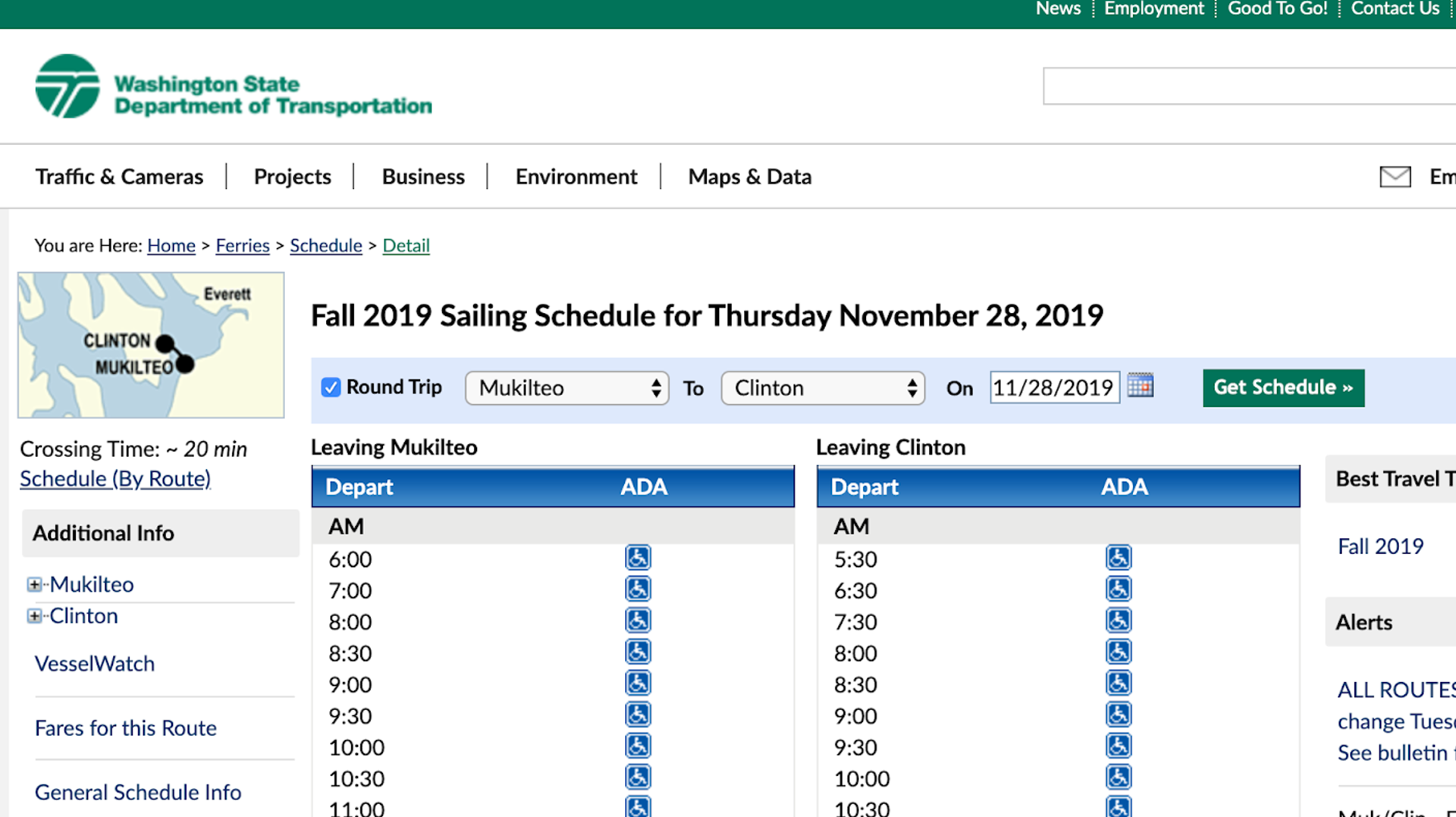 Research Learnings 
• Predictability and uncertainty is a concern when traveling by ferry
• The WA State Ferry website is updated and accurate, but difficult to understand for new, mobile users
• Newcomers to Seattle like the idea of ferry travel, but aren't always sure where to go or what to do once they get there
• Users would use tools to better plan ahead for trips, timing, and logistics
• Even regular ferry riders could use better tools (Initially ruled out these users; while not a target audience/key persona, could they be early adopters?)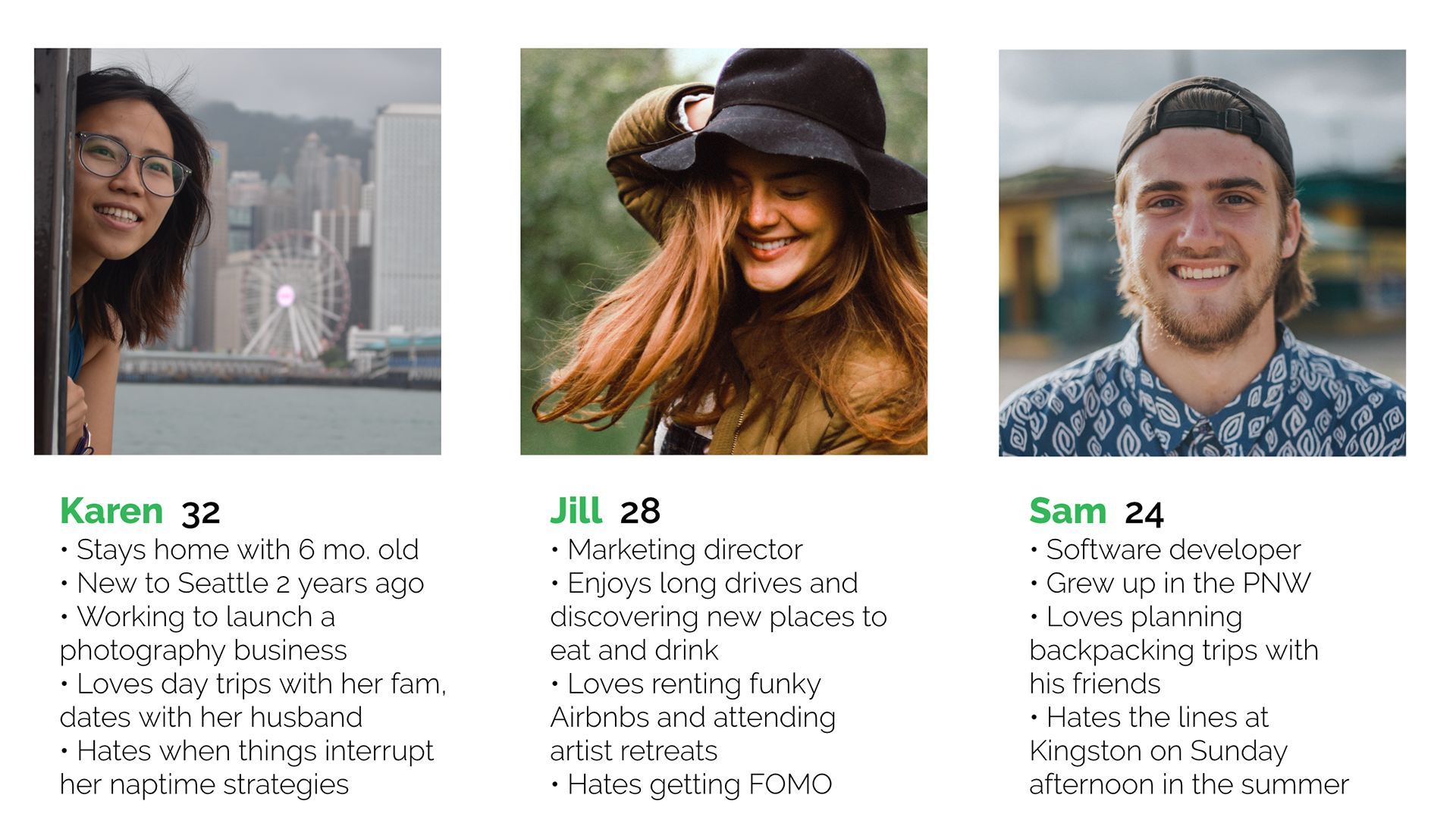 Early Mock-Ups
Used these for early testing and sketching how pieces of content might begin to work together. I used these for some early user testing and learned it was difficult to measure effectiveness without some real content.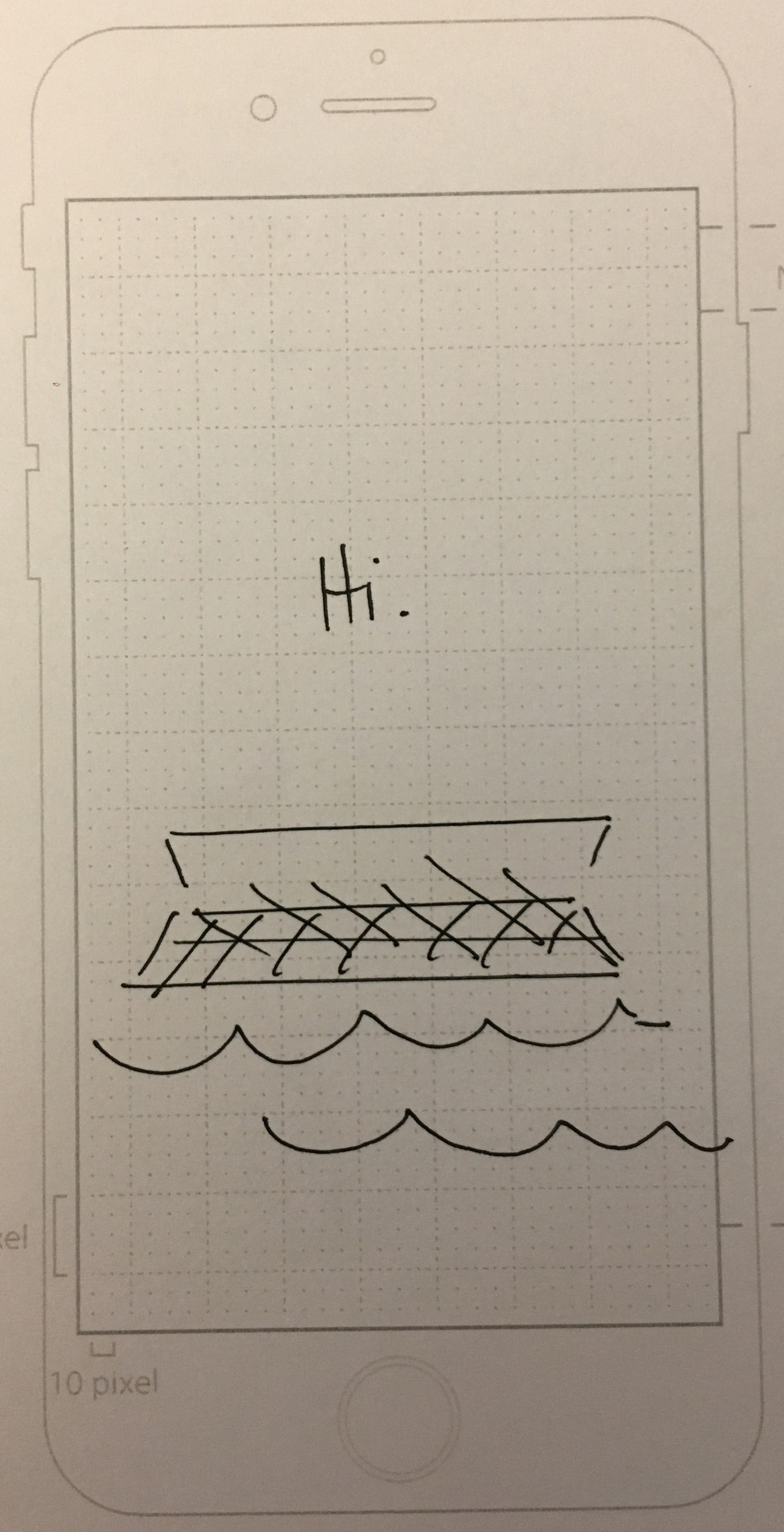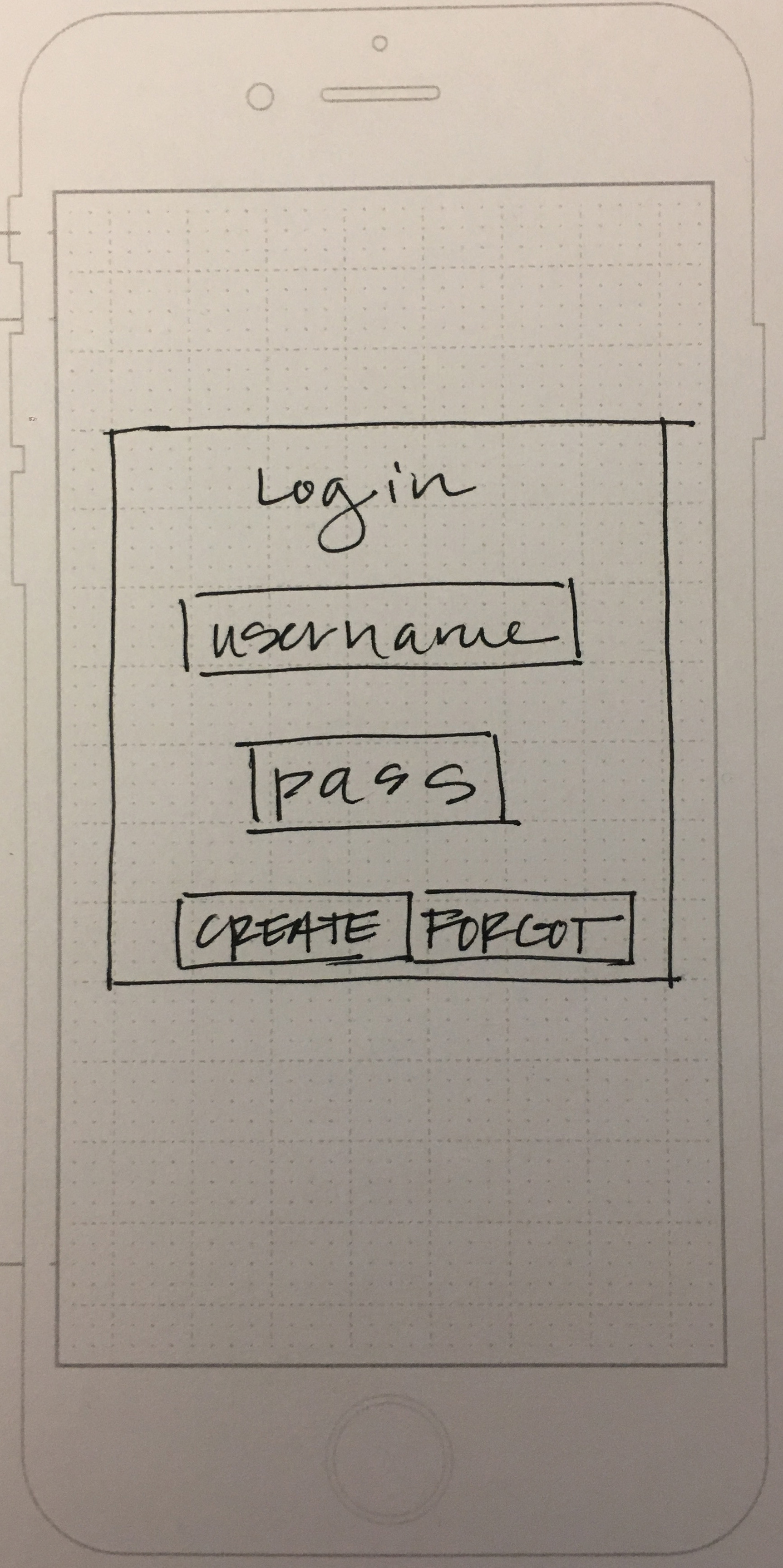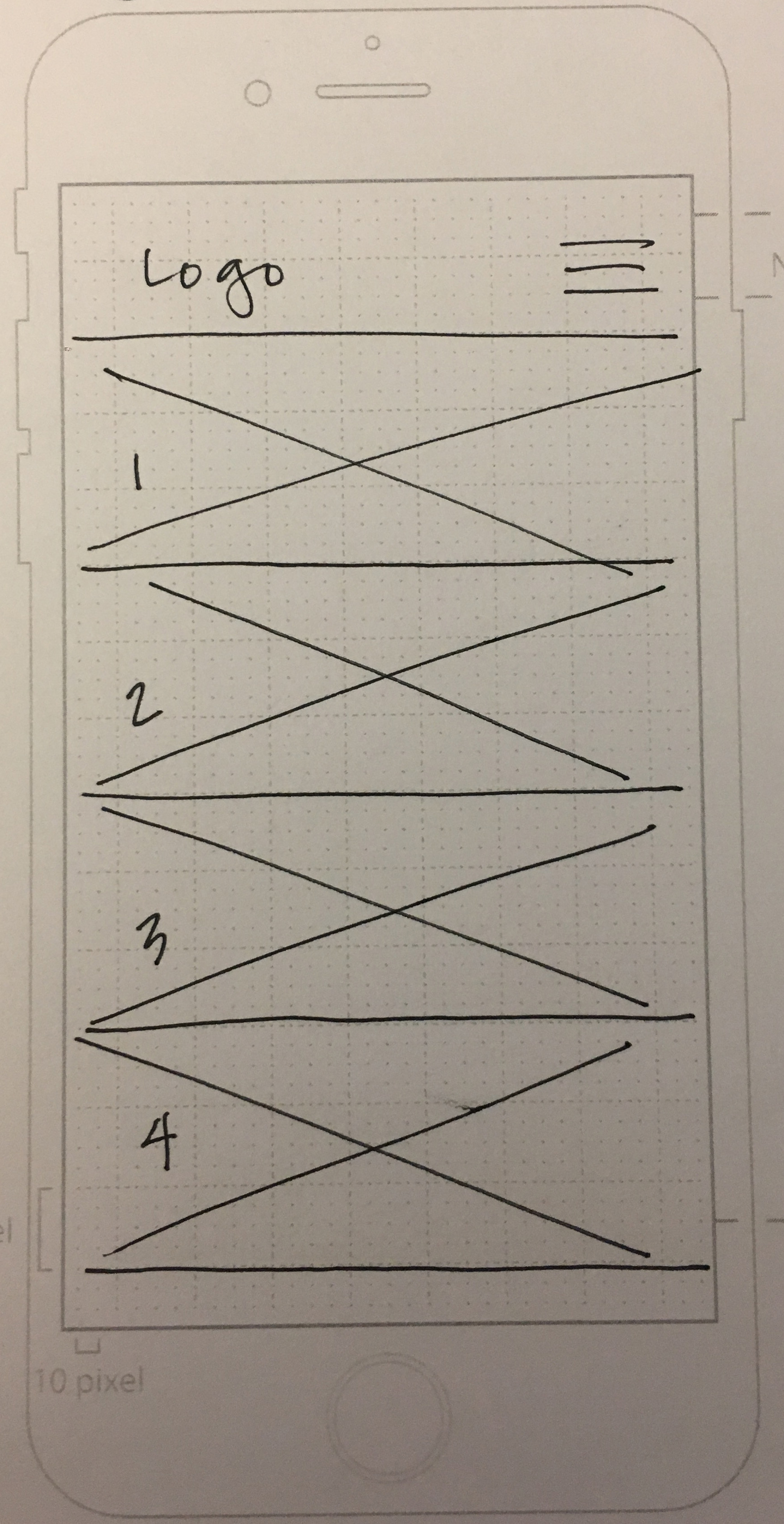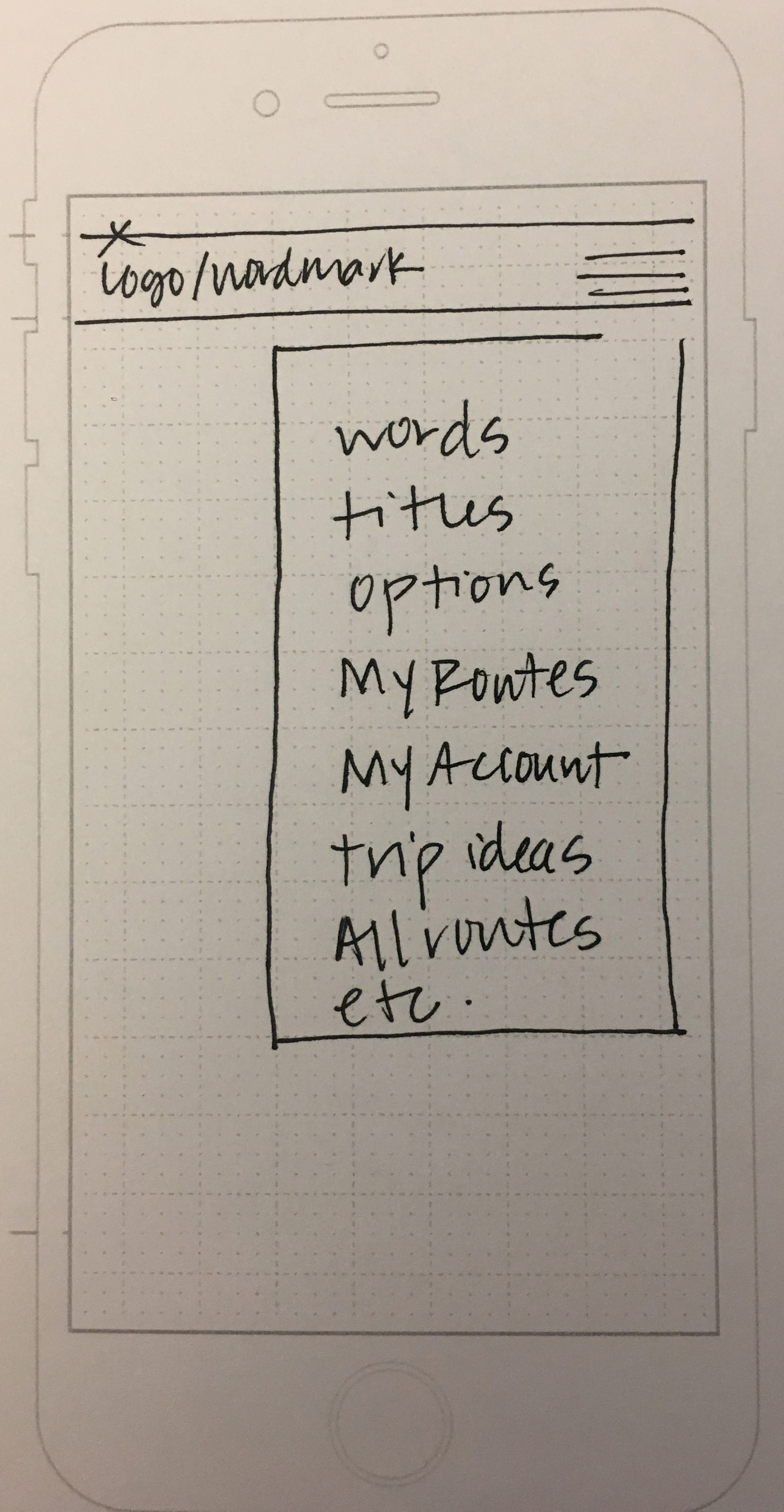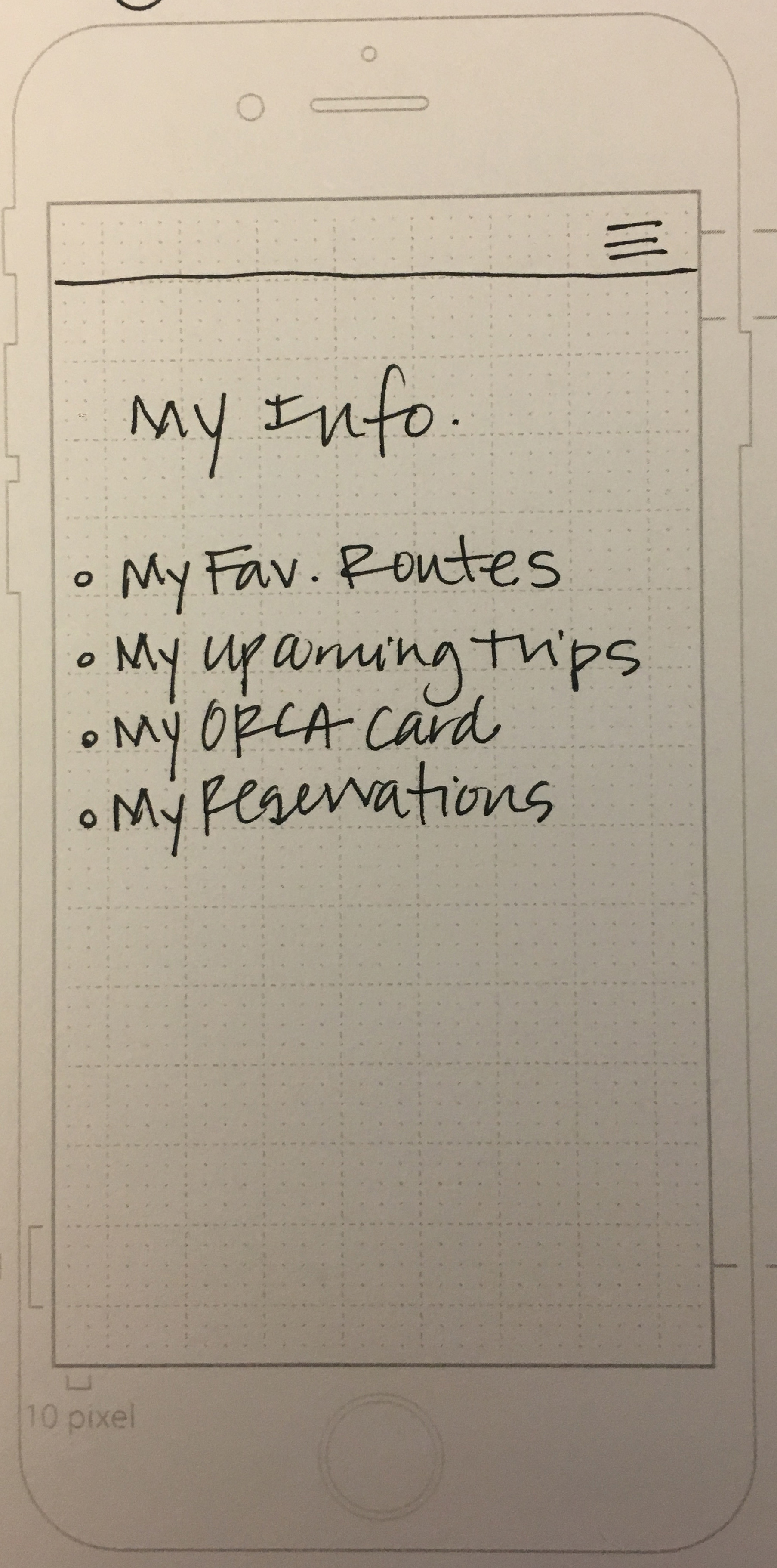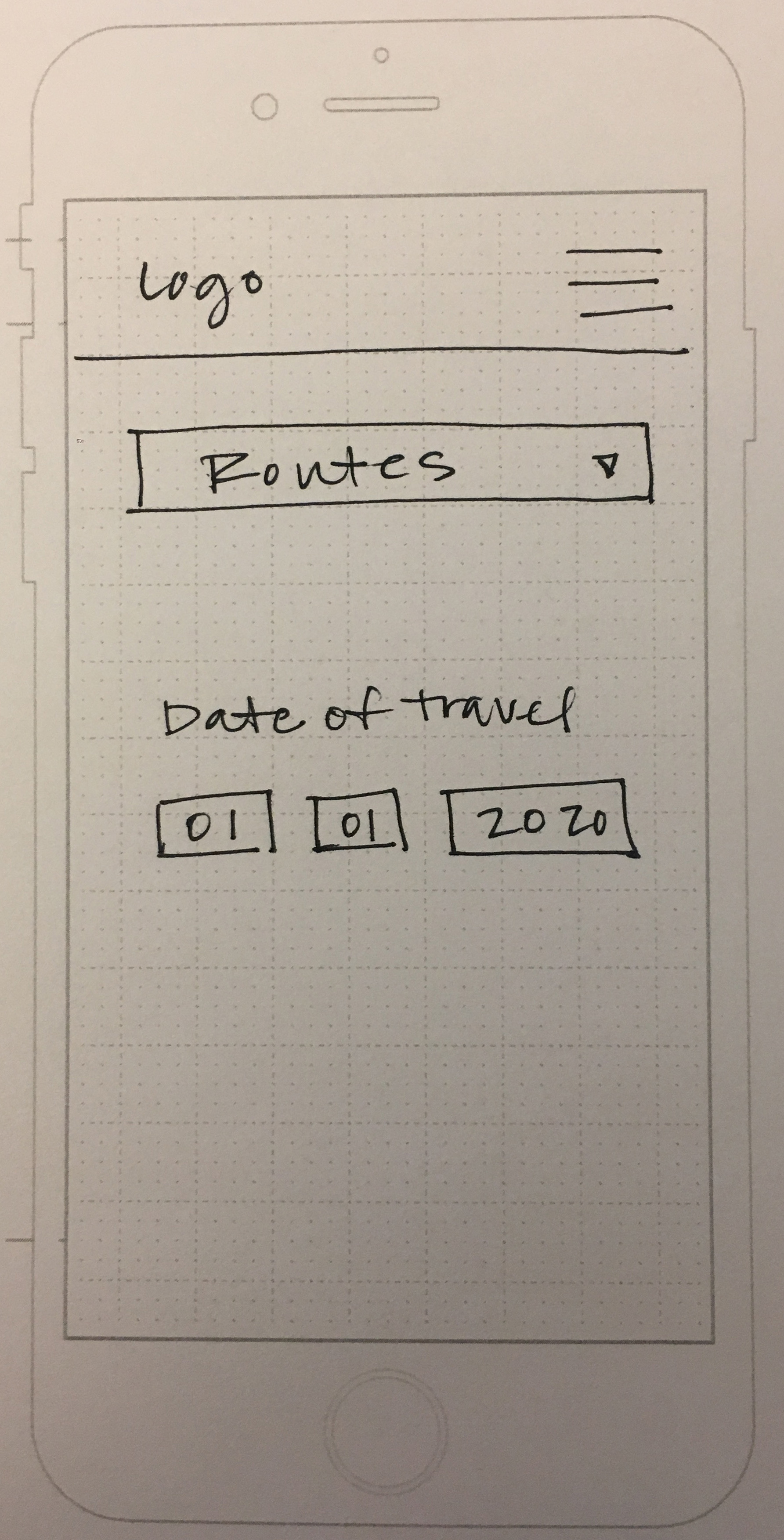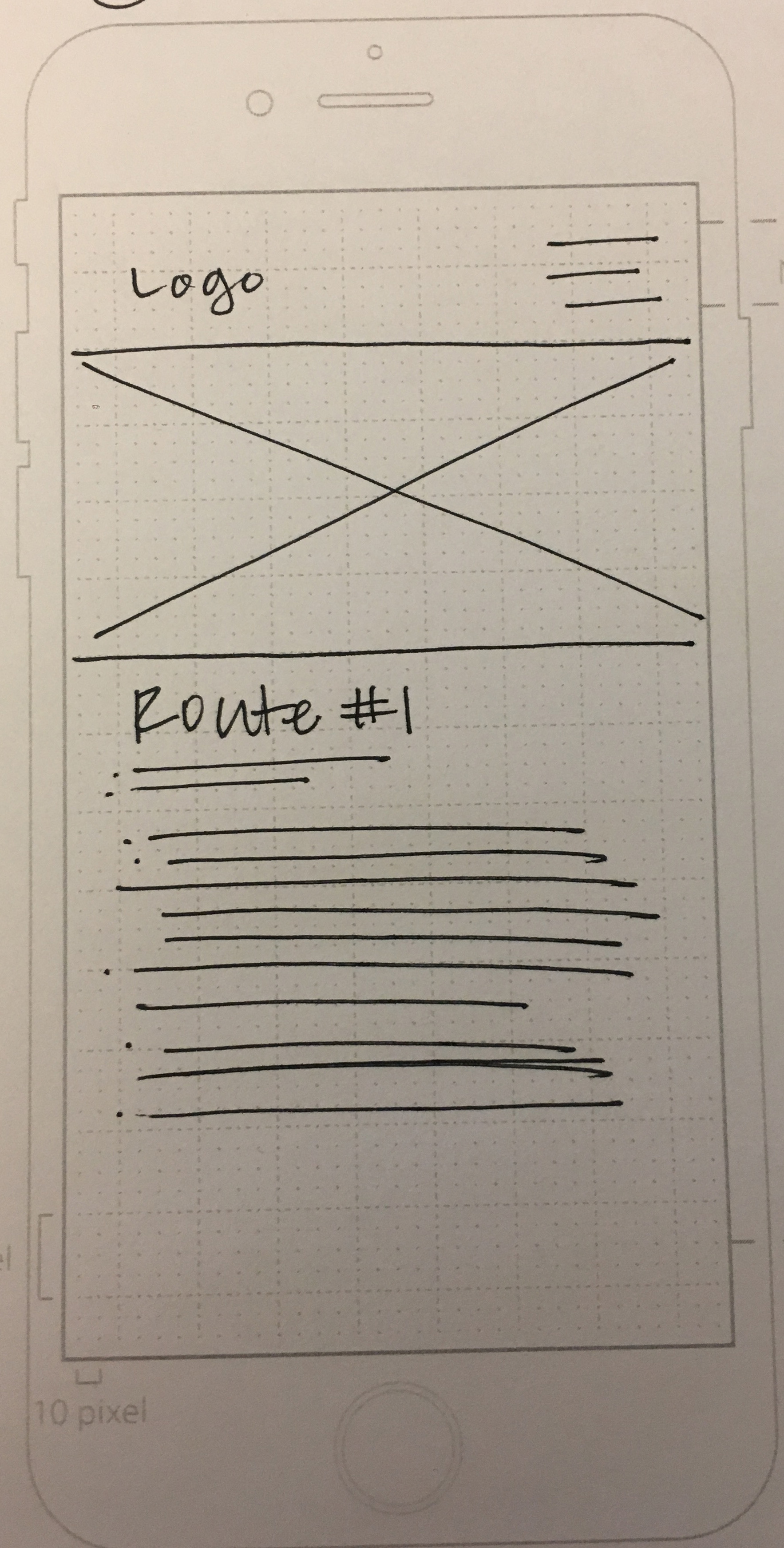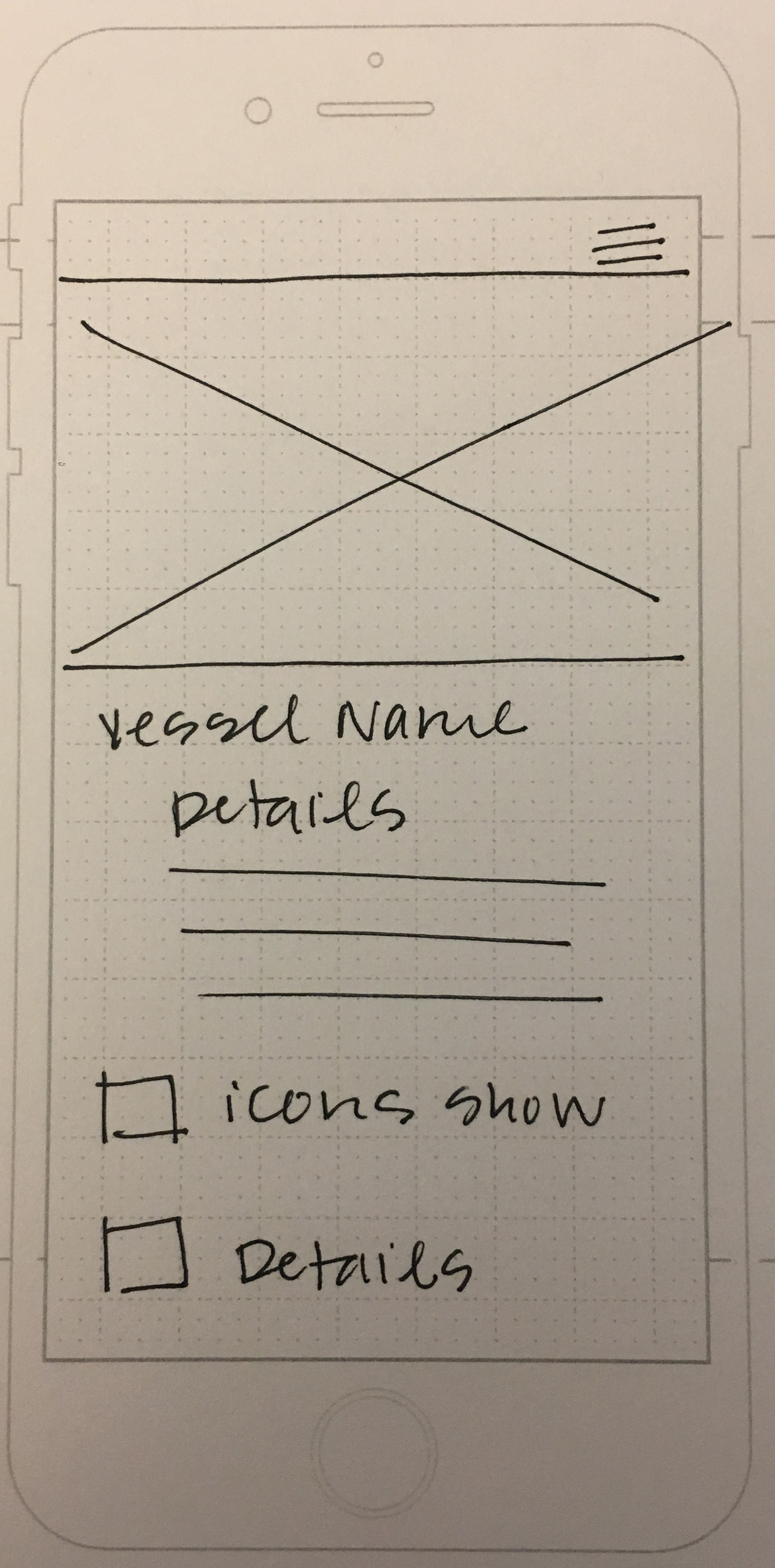 Site Map
I used the site map to organize types of content I would need to gather and to prioritize features. 
Blue is for pages that focus on personalized information (information that may change the most from user to user). Green for search/results on ferry routes and times (where we'll need to be most integrated to data from WA State Ferries). Pink is for activity suggestions and location-specific information that could be connected to business or chamber of commerce sponsorships/partnerships in the future. 
Priorities: Green, then Blue, with Pink to follow at a later date.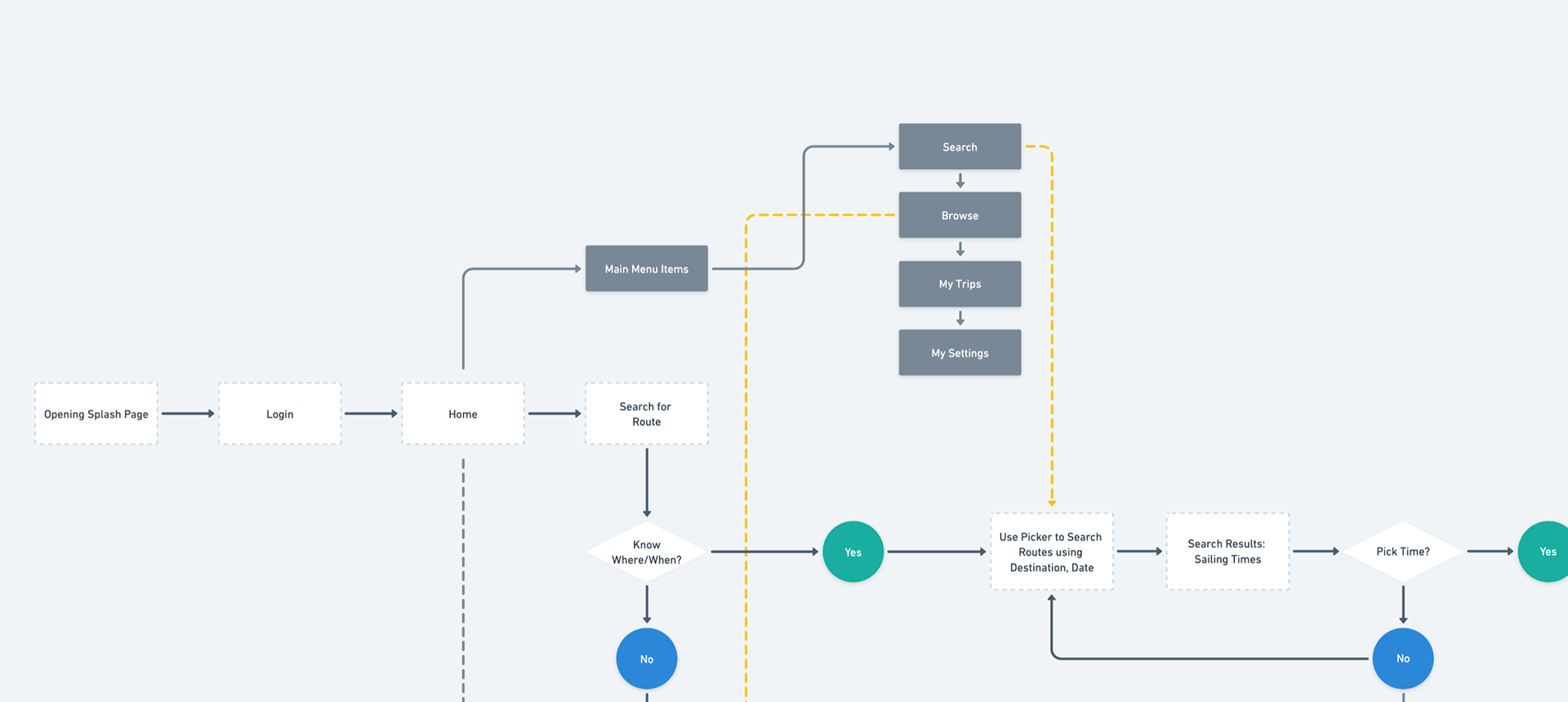 High Fidelity Mock Up
I used Adobe XD and focused on a clean, utilitarian look.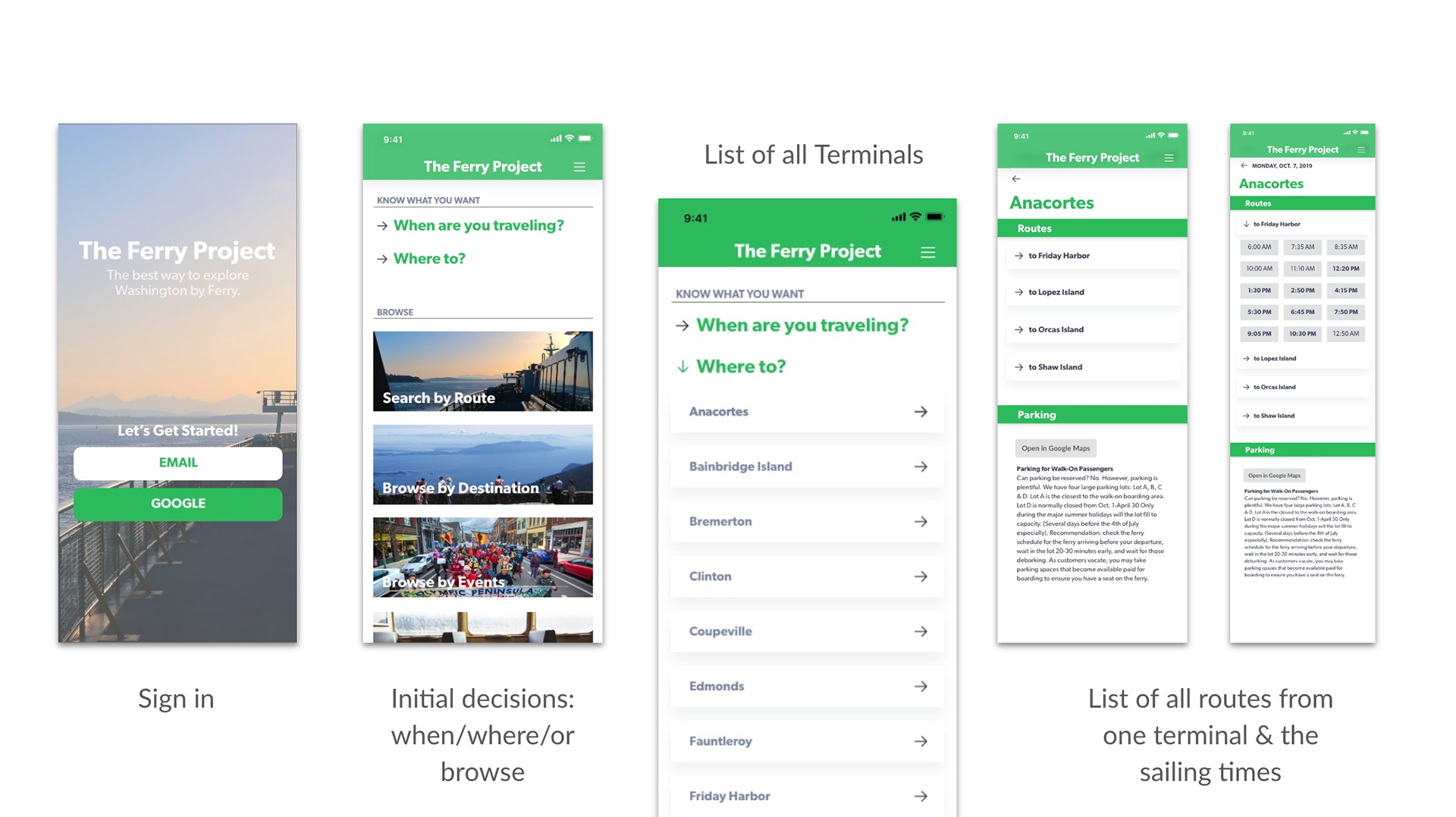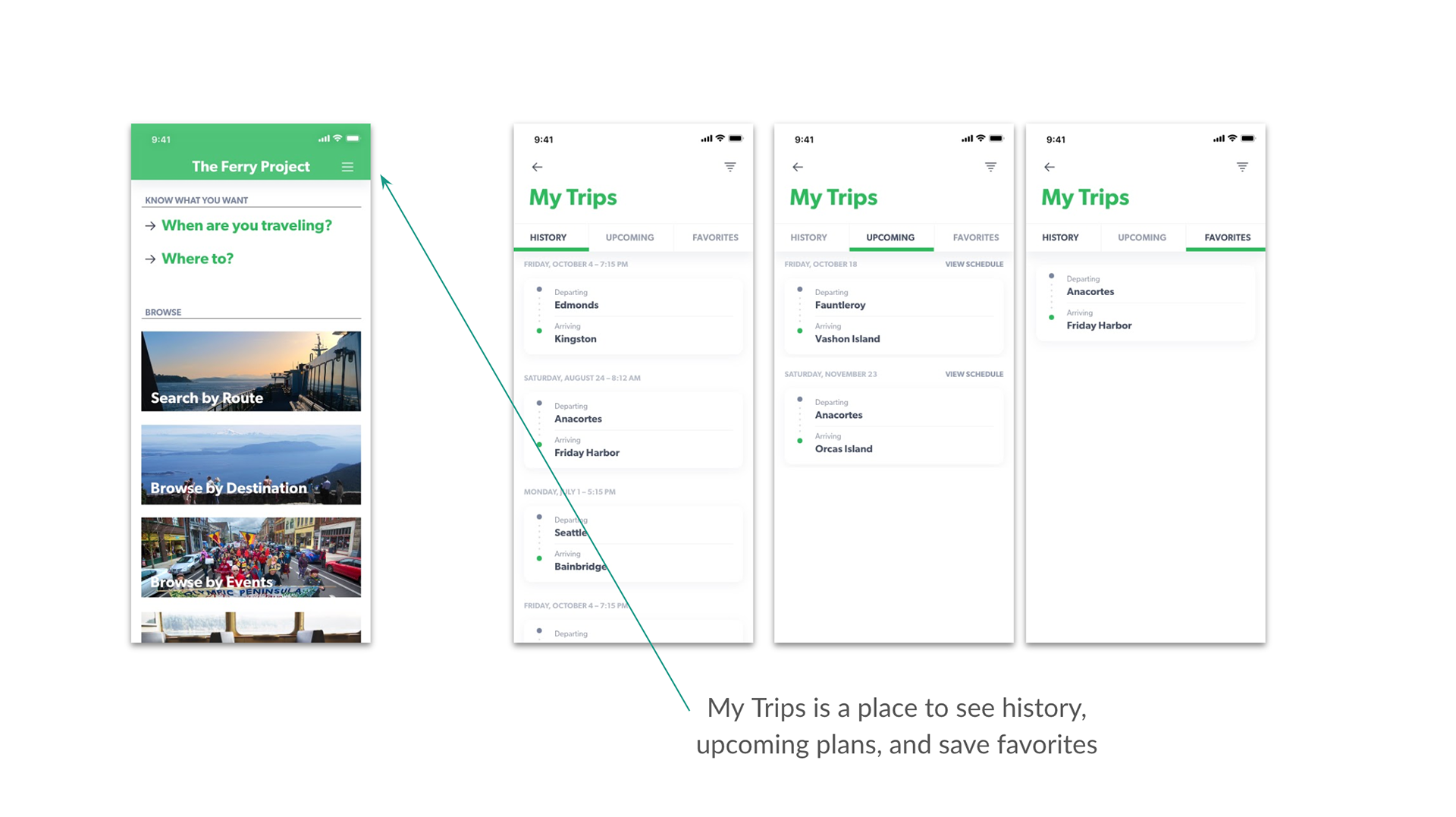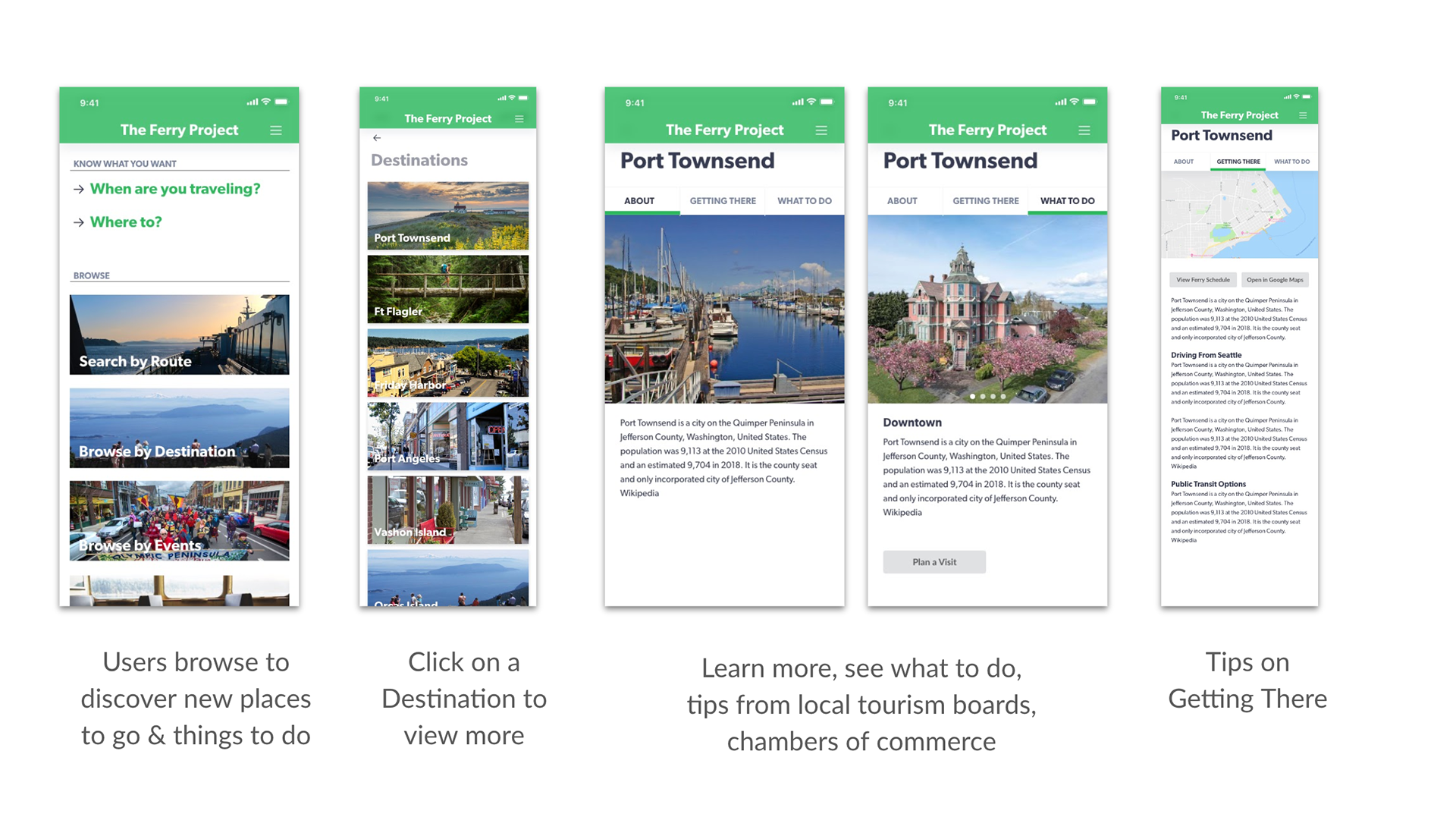 User Testing
I tested the early prototype with 6 users and directed them with a few tasks: 
• What time do you need to leave home this Saturday to be in Kingston for an event at noon? Save the route to access later.
• You're walking on a ferry in 20 minutes, use the app to pull up the ticket you purchased earlier today.
• Your parents are visiting from out of town, use the app to plan a day trip to Bainbridge Island.
• You're traveling with a family member who uses a wheel chair. Use the app to figure out if there's a restroom on the car deck on the ferry to Orcas Island.
• You're visiting a friend in Bremerton, use the app to figure out if you'll be able to enjoy a happy hour drink on the boat before you arrive.
• Make a vehicle reservation on the Friday Harbor route.